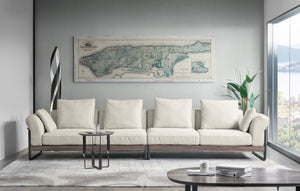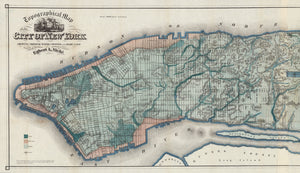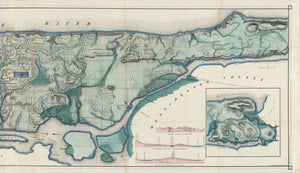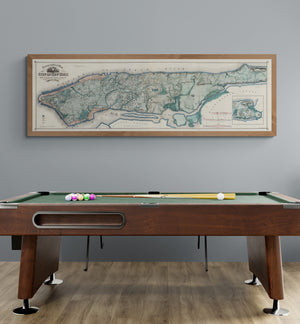 Topographical Map of the City of New York. Showing Original Water Courses and Made Land.
By: Egbert L. Viele
Original Date: 1865
Size of Original: 18.5 x 2.6 inches (47 x 160 cm)
This map is a fine print reproduction of one of the scarcest, most important and most enduring maps of New York City ever published.
Viele's map covers Manhattan Island in its entirety and details the canals, swamps, rivers, ditches, ponds, meadows, and drainage basins of Manhattan as they existed prior to the city's urban development. The map is so accurate that a version of it is used to this day by architects and contractors who need to ascertain the location of underground rivers and swamps which might destabilize foundations of new construction projects. 
The map was twenty years in the making as Viele consulted original sources such as plans, older maps, and surveys in his quest to create a dependable and accurate reference, even consulting the first maps depicting the island as it was when the first Dutch settlers built a fur trading post on the tip of the island. Viele's efforts resulted in this map, a masterpiece of its kind.
Please contact us for larger / custom sizes.
Inventory #81031
Contact Us
Use the form below to ask questions about our fine print reproductions, give special requests, help us source the right map for you, customize your order, or sell us original maps you own to our sister company, New World Cartographic.
All you have to do is message or call us at (312) 496 - 3622.