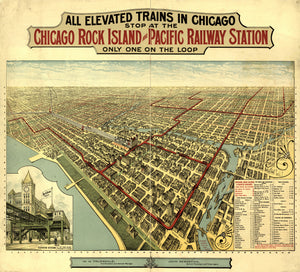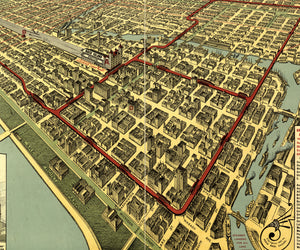 All elevated trains in Chicago Stop at the Chicago Rock Island and Pacific Railway Station, only one on the Loop
By: Poole Brothers
Date of Original: 1897 (published) Chicago
Original Size: 29 x 32 inches (73.5 x 81.3 cm)
This is a fine print reproduction of a rare, bird's eye view broadside of the city of Chicago looking southwest with elevated trains, cable and electric street car routes highlighted in red. The print centers on the downtown area of Chicago, which is commonly referred to as "the Loop," of which the namesake is derrived from the very systems of public transportation highlighted in this piece.
Special attention is paid to the  Rock Island ticket offices and stations, not only in the map, but with a sketch view from the ground looking at the newlt constructed "Rock Island," Van Buren St. elevated train station. Other noteworthy points of interest include the Union Stock Yards, Lake Front Park, the Chicago Driving Park, Chicago's network of Boulevards, and old swing bridges along the Chicago River that would later be replaced by drawbridges. The lower right portion of the map features a list of office and public buildings, hotels, department stores, and theatres with coordinates that correspond to numbers and letters that surround the image.
The first train to operate on the Chicago and Rock Island Railroad was in October 10, 1852 between Chicago and Joliet. Construction continued west through LaSalle, IL eventually reaching Rock Island on February 22, 1854, making it the first railway to connect Chicago with the Mississippi River. The network of railways operated by the Rock Island would continue to expand over sedon half of the 19th century, reaching the states of Louisiana, Texas, New Mexico, and Colorado. The railroad and others like it would play a major role in the era and efforts of Westward Expansion and Manifest Destiny by the United States. 
Inventory #81046
Contact Us
Use the form below to ask questions about our fine print reproductions, give special requests, help us source the right map for you, customize your order, or sell us original maps you own to our sister company, New World Cartographic.
All you have to do is message or call us at (312) 496 - 3622.