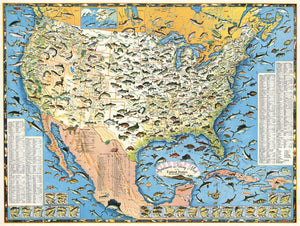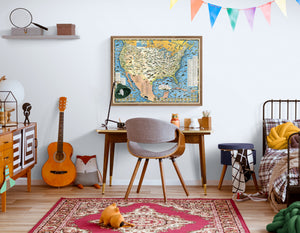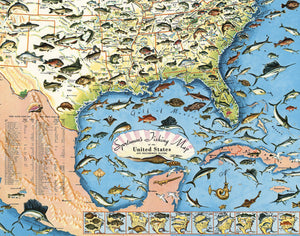 Sportsmen's Fishing Map of the United States and Neighboring Waters
By: Ira Moss
Date of Original: 1956 (dated) New York
Original Size: 16.5 x 22 inches (42 x 56 cm)
This is a fine print reproduction of a mid-century map based on fishing within the United States and surrounding waters. It is loaded with information on fish species and their locations making it the ideal map for any avid fisherman. 
This vintage fishing map provides depictions of 88 different varieties of fish, both freshwater (39 fish) and saltwater (45 fish), and places them throughout the map based on where they are most commonly found. From all vrieties of trout, salmon, perch, bass, pike and catfish, to bonefish, wahoo, halibut, amberjack, tarpon, and marlin, this map leaves nothing out for the seasoned angler or novice fisherman.
Tables at the bottom and side of the map provide a ledger of fish that can be found in every state, noting the best fishing spots and nearest town for lodging and supplies. There are also 23 small inset map for a wide array of fish species that show where they are most numerous and concentrated. Surrounding the map is a creative border of various flies and lures that would be used for fishing in ponds, lakes, streams, rivers, shallow sea flats, and deep water of the open ocean. 
It should be noted that this map pair well with an other map by Ira Moss focused on Wildlife and Game hunting within the united states. That map, like this one is loaded with imagery and informative detail well suited for any outdoor enthusiast, hunter, or angler. 
Inventory #81048
Contact Us
Use the form below to ask questions about our fine print reproductions, give special requests, help us source the right map for you, customize your order, or sell us original maps you own to our sister company, New World Cartographic.
All you have to do is message or call us at (312) 496 - 3622.