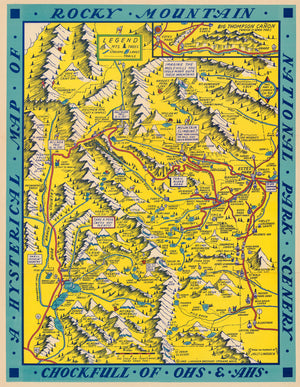 A Hysterical Map of Rocky Mountain National Park Scenery, Chockfull of Ohs & Ahs.
By: The Lindgren Brothers
Date: 1948 (dated) Spokane, WA
Original Size: 22 x 17 inches
This is a fine print reproduction of a vintage pictorial map of Rocky Mountain National Park that was originally produced by the Lindgren Brothers out of Spokane, Washington in 1948. The map presents all landmarks, points of interest and many other places through the use of imaginative illustrations and amusing commentary. The color palate and style in which the map was made makes it an inviting work that exemplifies the beauty and wonder of Rocky Mountain National Park.
Founded in 1928 by brother Jolly Elmer and  Oscar Simms Lindgren, the Lindgren Brothers produced a series of whimsical pictorial maps, mostly focused on national parks, but also paid attention to other areas of great natural beauty and wonder. Their style and color scheme is easily recognizable once one becomes familiar with just a handful of their works. Their maps were wildly popular from the mid-1930s to the 1950s as was tourism to the places their maps represent.   
Inventory #81055
Contact Us
Use the form below to ask questions about our fine print reproductions, give special requests, help us source the right map for you, customize your order, or sell us original maps you own to our sister company, New World Cartographic.
All you have to do is message or call us at (312) 496 - 3622.