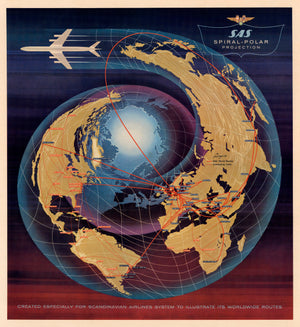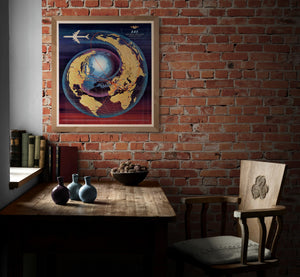 By: Unknown Artist
Date of Original: 1960 (pub.) Scandinavia
Original Size: 16.5 x 18 inches (42 x 46 cm)
This is a fine print reproduction of a very unique and rare world map presenting international airline service routes for Scandinavian Airline Systems. The map was made when air travel was regarded as the height of luxury service and refueling stops were frequent, especially for destinations far away.
As stated in the title, the map is done in a Spiral-Polar Projection that is very similar to the logarithmic spiral of a nautilus or other mathematical spirals found in nature. The effect of the projection makes Asia appear very wide from east to west and since the projection is centered on the North Pole, much of the southern hemisphere is omitted from the map, including Australia and New Zealand. Another interesting visual attribute is the subtle map below (in dark blue) that separates from the primary map (in bronze) as the spiral moves out. The entire spiral seems to be generated by the speed of a four-engine jet that flies above the map at high speed.
Service routes for  Scandinavian Airline Systems are delineated in red and reach every continent except Antarctica and Australia. The background color fades from red to blue and black that really lets the unique projection jump off the sheet. The official logo for SAS appears in the top right with the national flags of Norway, Sweden, and Denmark.
Inventory #81066
Contact Us
Use the form below to ask questions about our fine print reproductions, give special requests, help us source the right map for you, customize your order, or sell us original maps you own to our sister company, New World Cartographic.
All you have to do is message or call us at (312) 496 - 3622.