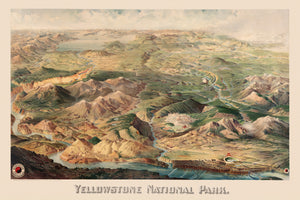 By: Henry Wellge
Date of Original: 1904 (copyright) Milwaukee, WI
Original Size: 28 x 42 inches (71 x 106.5 cm)
This is a fine print reproduction of Henry Wellge's spectacular bird's-eye-view of Yellowstone National Park. It was original published in 1905 for the Northern Pacific Railway Company that offered the only traveler-friendly way to visit Yellowstone from across the country. 
The view looks down on the park from the north entrance with the Grand Tetons appearing in the horizon to the south. Many points of interest are labeled within the view including Mammoth Hot Springs, Grand Canyon, Yellowstone Lake, Tower Falls, and the many iconic Geysers of Yellowstone National Park. Prominent mountains are also identified with their respective elevations provided. The arches located at each entrance of the park and existing hotels can also be found.
Yellowstone National Park was the first of its kind, a novel idea to set aside land for the people to enjoy and nature to thrive, undisturbed and unmolested by human development and industry. While the park was established in 1872, it wouldn't be properly protected from poachers and funded by congress until the 1880s. At one point, the American Bison that once grazed across much of the country in the hundreds of millions was reduced to under 300, all of which resided in Yellowstone and was a major reason for the creation of the park.
Inventory #81067
Contact Us
Use the form below to ask questions about our fine print reproductions, give special requests, help us source the right map for you, customize your order, or sell us original maps you own to our sister company, New World Cartographic.
All you have to do is message or call us at (312) 496 - 3622.