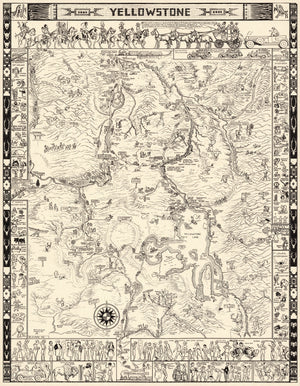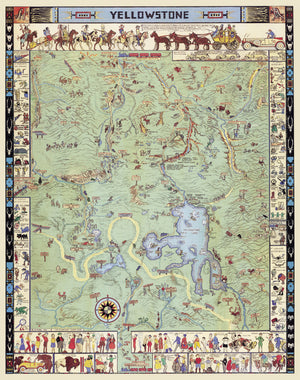 By: Joseph Jacinto Mora
Date of Original: 1931 (published) Monterey, California
Size of Original: 27 x 21 inches (68.5 x 53.5 cm)
This is a fine print reproduction of an original historic map of Yellowstone by the famed Renaissance Artist of the West, Joseph Jacinto Mora (a.k.a Jo Mora). This map was originally published uncolored. We are happy to offer the original version as well as a modern colored version, much of which we have produced by our own hand. 
The map is pictorial in nature and offers a humorous, tongue-in-cheek view of Yellowstone National Park and the many visitors that would frequent the park in the 1930s. Being a product of 1930s humor many elements of the map would not meet modern standards of political correctness, so viewer be ware. Aside from the many visitors, rangers, and hotel workers depicted, Jo Mora adds animals and characters to fit the names of many natural attractions throughout Yellowstone National Park. Popular sites depicted in this map include Old Faithful, Mammoth Terraces, the Grand Canyon, Electric Peak, and many lakes including Lake Yellowstone, Shoshone Lake, and Swan Lake to name a few. Additionally, the Continental Divide is delineated as it meanders through the lower section of the map. 

Joseph Jacinto Mora was born in Uruguay in 1876 and at age four, his father, the sculptor Domingo Mora, moved the whole family to Massachusetts. Jo went to art school in New York City, a place he later described as full of precipitous sided canyons and underground burrows. Early on in his career, he worked for the Boston Herald as a cartoonist and illustrator, drawing scenes based on the news of the day. Over the course of his career, Mora explored a number of different mediums, including sculpture, painting, and coin design. He has been called the 'Renaissance Man of the West'. His distinctive style resulted in his works becoming increasingly sought after throughout the map collecting community from his own time to the present.
Inventory #81068
Contact Us
Use the form below to ask questions about our fine print reproductions, give special requests, help us source the right map for you, customize your order, or sell us original maps you own to our sister company, New World Cartographic.
All you have to do is message or call us at (312) 496 - 3622.