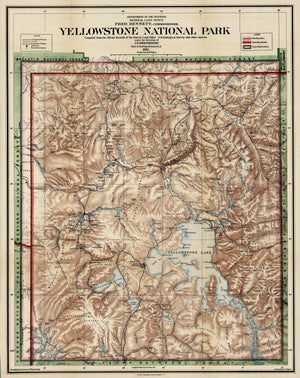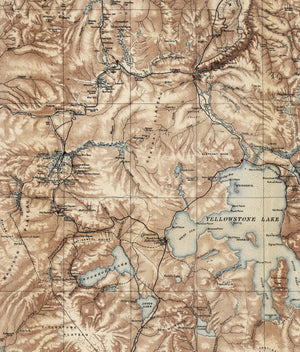 By: General Land Office
Date of Original: 1911 (dated) Washington D.C.
Original Size: 26 x 20.5 inches (66 x 52 cm)
This is a fine print reproduction of an antique map of Yellowstone National Park, published by the General Land Office in 1911 under the direction of I.P. Berthrong, Chief of Drafting Division.
The map offers a unique combination of practical information and exceptional aesthetic appeal through the use of its complimentary color tones and shading along topographical detail. Colored borders define the park, states, and national forest land. A legend in the top right that corresponds to the map defines completed roads, trails, projected roads, ranger stations, and snowshoe cabins located throughout Yellowstone. Natural attractions such as geysers, hot springs, mountains, valleys, rivers, and creeks are noted throughout as are the original hotels offered to visitors of the park.
Yellowstone National Park was the first of its kind, a novel idea to set aside land for the people to enjoy and nature to thrive, undisturbed and unmolested by human development and industry. While the park was established in 1872, it wouldn't be properly protected from poachers and funded by congress until the 1880s. At one point, the American Bison that once grazed across much of the country in the hundreds of millions was reduced to under 300, all of which resided in Yellowstone and was a major reason for the creation of the park.
Inventory #81069
Contact Us
Use the form below to ask questions about our fine print reproductions, give special requests, help us source the right map for you, customize your order, or sell us original maps you own to our sister company, New World Cartographic.
All you have to do is message or call us at (312) 496 - 3622.