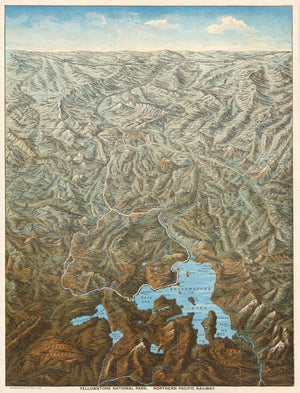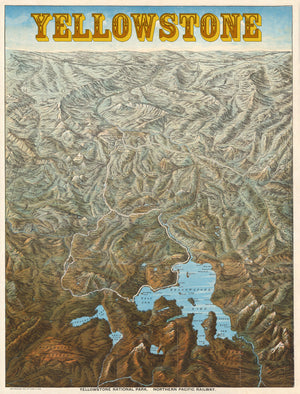 By: Charles H. Fee & Poole Brothers
Date of Original: 1895 (published) Chicago
Side of Original: 20.5 x 15.5 inches (52 x 39.5)
This is a fine print reproduction of a late 19th century bird's-eye-view map of Yellowstone National Park. The original work was engraved and published by the Poole Brothers out of Chicago to be folded on an envelope with a return address for "Yellowstone National Park on the Northern Pacific Railway."
Looking from south to north, this map of Yellowstone and southern Montana is filled with place names of the many regions and natural attractions the park and surrounding area had to offer to visitors from afar. Geysers, valleys, rivers, lakes, and mountains are listed throughout as are the various hotels available to park visitors. To the north, we find several small towns leading up to the path of the Northern Pacific Railway which at the time, ran from St. Paul, Minnesota to Portland, Oregon, passing through Springdale, Livingston, and Bozeman along the way.
In the late 19th century, Yellowstone was still a fairly new attraction for outdoor enthusiasts. While the park was established in 1872, it did not receive proper funding from congress and until the 1880s. Prior to those days, the main visitors to Yellowstone were poachers hunting the nearly extinct population of North American Bison that resided in the park.  Tourism to the park was rare and inconsistent until the turn of the century. At the time this map was published, the railroad offered the most economic and practical way to visit Yellowstone National Park.
NOTE: This map is offered in two formats. The original format is without the title YELLOWSTONE and the other is our personal adaptation to the map with the word YELLOWSTON printed across the top.
Inventory #81080
Contact Us
Use the form below to ask questions about our fine print reproductions, give special requests, help us source the right map for you, customize your order, or sell us original maps you own to our sister company, New World Cartographic.
All you have to do is message or call us at (312) 496 - 3622.