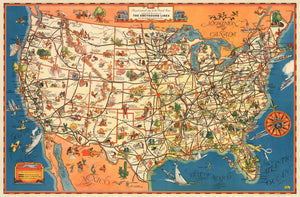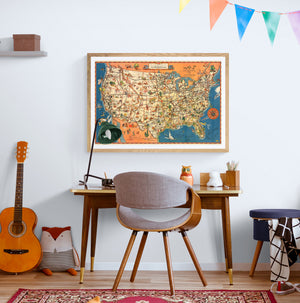 A good-natured map of the United States setting forth the services of The Greyhound Lines and a few principal connecting bus lines
By:
 

Greyhound Lines
Date:
 

1934 (Published) Cleveland
Original Size:
 

19 x 29.25 inches (48.3 x 74.3 cm)
This is a fine print reproduction of a  bright and fun pictorial map that is an object of true promotional Americana, designed to appeal to the burgeoning class of travelers who availed themselves of the services provided by Greyhound during the heyday of bus travel in the United States.
The first Greyhound bus began operation in Hibbing, Minnesota, in 1914 (see the illustration at the top center of the map). The Golden Gate Bridge had just opened (1937).
Caricatures and captions throughout the map run the gamut from humorous and charming to politically incorrect. A Texan in a ten-gallon hat and high-heeled boots boasts that "Thar's room in Texas for all of Yurrup and half of Africa, yes suh."
America's ethnic and regional perceptions of itself are made manifest by caricatures throughout the map, whose illustrations condone the social and racial stereotypes denoted in the map's pictorials—Native American Indians snake dancing, African-Americans picking cotton—all captioned with down home, folksy lingo.
Inventory #11048
Contact Us
Use the form below to ask questions about our fine print reproductions, give special requests, help us source the right map for you, customize your order, or sell us original maps you own to our sister company, New World Cartographic.
All you have to do is message or call us at (312) 496 - 3622.