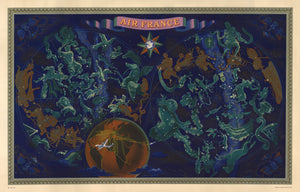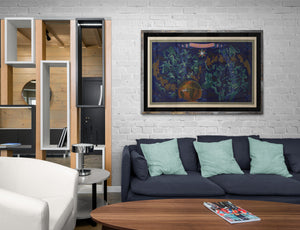 Date: 1950 (Published) Paris
Original Size: 23.25 x 37.5 inches (59 x 95.3 cm) image
This is a fine print reproduction of a superb, vintage travel poster for Air France, by Lucien Boucher. The celestial map incorporates modern and antique map making elements and imagery, including angels in stardust in the four corners blowing into existence miniature earth-like planets.
A myriad of constellations are depicted, with the stars creating them and the figures after whom they are named all rendered. Superimposed over one area of constellations is a globe depicting most of the land masses, and crisscrossed by the routes used by Air France to a plethora of international destinations. The original poster was and still is a unique mid-century work of art that has remained a highly sought after piece by avid map and travel poster collectors worldwide.
Inventory #11291
Contact Us
Use the form below to ask questions about our fine print reproductions, give special requests, help us source the right map for you, customize your order, or sell us original maps you own to our sister company, New World Cartographic.
All you have to do is message or call us at (312) 496 - 3622.