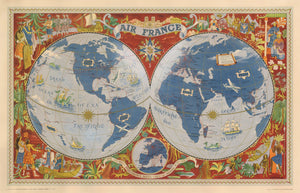 By: Lucien Boucher
Date: 1952 (published) Paris
Original Size: 23 x 37.5 inches (74 x 107 cm)
This is a marvelous reproduction of a poster from an Air France series created by artist Lucien Boucher, showing an elongated terrestrial globe with Air France routes in white, surrounded by a richly decorated border of landscapes. The poster shows all destinations of Air France at the time, and describes them pictorially. While a few geographical features such as mountains and forested regions are included, the poster primarily focuses on cultural representations of the designated destinations.This nostalgic poster reminds us of the world before globalization had taken hold, before cultural blending or greying had advanced to its current state. 
An enormous and colorful compass rose in the southern Atlantic orients us. Depictions of destinations in North America include the Capitol Building in Washington, DC, the Statue of Liberty just off the shore from New York, an Indian with a peace pipe standing before his tepee, and an Eskimo with a sledge and dog team in Canada. Africa's great diversity of cultures is amply illustrated, with Bedouins and indigenous peoples in native dress. Architectural elements are featured in Egypt, and an enormous elephant with marvelous trunks advances toward us. 
Other destinations show famous landmarks and cultural icons such as the Kremlin for Moscow, a dragon for China, and a geisha for Japan. Turtles, a whale and a sea monster, and frigates embellish the oceans. A fanciful version of Pegasus suggests the magic element once associated with flying.  
Inventory #81001
Contact Us
Use the form below to ask questions about our fine print reproductions, give special requests, help us source the right map for you, customize your order, or sell us original maps you own to our sister company, New World Cartographic.
All you have to do is message or call us at (312) 496 - 3622.