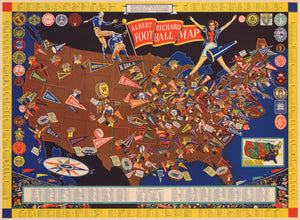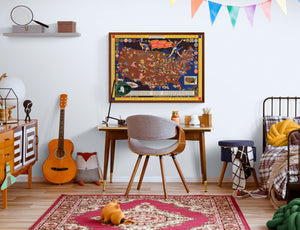 By: Albert Richard
Date: 1939 (dated) Milwaukee, WI
Original Size: 19 x 26 inches
An enthusiastic map of the United States, celebrating College Football programs and universities from coast to coast. This pictorial map by Albert Richard bursts with pennants, megaphones, players in action, footballs, and the stadiums that hosted the five annual Bowl Games that included the Orange Bowl, Sugar Bowl, Cotton Bowl, Sun Bowl, and Rose Bowl.
The map is surrounded first by crests and seals of various universities. In the yellow border are the names and positions of All-American Football players, listed under the University for which they played for previous 50 years. The bottom border of the map features the nicknames and records of all college teams nationwide. Supporting the outer-corners of the map is a sea on fans rejoicing in stadiums.
During this period of American Sports History, College Football far more established and popular than the professional football league. Their subtle footprint can be found in the inset map of the United States in the lower right. At that time, the Dodgers were in Brooklyn, the Bears shared Chicago with the Cardinals, and the Rams played in Cleveland.
Various editions of this map were issued from 1938 - 1941 and then again in 1950. They were illustrated by F.E. Cheeseman and made as promotional material for the Albert Richardson Co. clothing company which specialized in men's outerwear. Advertisements could be found in Boy's Life Magazine,  a monthly periodical of the Boy Scouts of America that was established in 1911 and is still in operation to this day. 

Inventory #81050
Contact Us
Use the form below to ask questions about our fine print reproductions, give special requests, help us source the right map for you, customize your order, or sell us original maps you own to our sister company, New World Cartographic.
All you have to do is message or call us at (312) 496 - 3622.