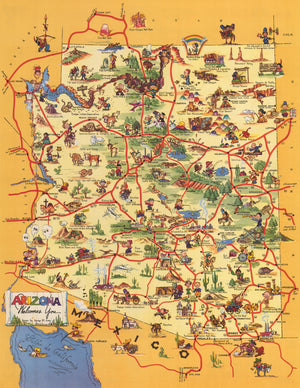 By: George Avey
Date of Original: 1942 (published) Arizona
Original Size: 21.5 x 16.5 inches (54.5 x 42)
This is a fine print reproduction of a joyful little pictorial map of Arizona by George Avey. The original map was produced as "a friendly guide for the traveler in the land of sunshine and scenic grandeur," as noted on the front.
The map is filled with colorful scenes of people enjoying a wide variety of outdoor activities throughout the state. Major highways and roads that interconnect the state are delineated in red. Though the map focuses on Arizona, attention is also given to places just across the border on all sides.
On the verso of the original was detailed text pertaining to the History of Arizona, of which topics include "Pre-Historic," "the Spanish Conquest," "Early Settlers," "When Men Were Men," and "Arizona Today." The other half of the verso describes in detail nearly 60 attractions throughout the state.
Inventory #11295
Contact Us
Use the form below to ask questions about our fine print reproductions, give special requests, help us source the right map for you, customize your order, or sell us original maps you own to our sister company, New World Cartographic.
All you have to do is message or call us at (312) 496 - 3622.