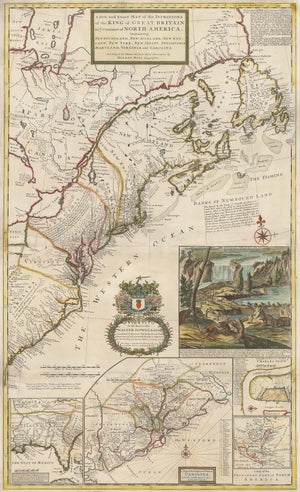 A New and Exact Map of the Dominions of the King of Great Britain on ye Continent of North America 
By: Herman Moll
Date: 1731 (published) London
Original Size: 24 x 40 inches (61 x 101.5 cm)
This is a magnificent reproduction of the important map of Herman Moll illustrating the ongoing dispute between Great Britain and France regarding the boundaries separating their respective American colonies. It is the first large-scale map to show English developments and postal routes in North America. 
All territory south of the St. Lawrence River and eastern Great Lakes is shown as British. The face of the map is covered with numerous notations relating to territorial claims, Indian tribes, the fur trade, and the condition of the land. Each vignette is an important commentary, with that of Niagara Falls with an army of beavers at work especially intriguing. Beaver fur was a significant part of the highly successful American fur trade, an industry which contributed significantly to the European settlement of America. Furthermore, the industrious nature of beavers symbolized the ideal that hard work would result in the control of land and creation of wealth.  
Moll was one of the most well-known cartographers in England of his generation.
Around 1680, Moll emigrated from the Netherlands to England, settling in London, where he established his own shop in 1689. His style grew increasingly distinctive as his career progressed, and his maps remain noted for their elaborate design and clarity of lettering. He was also known for including numerous legends on his maps that give historical information about the geography, inhabitants and general features of the areas shown.
Inventory #81011
Contact Us
Use the form below to ask questions about our fine print reproductions, give special requests, help us source the right map for you, customize your order, or sell us original maps you own to our sister company, New World Cartographic.
All you have to do is message or call us at (312) 496 - 3622.