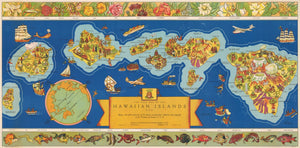 The Dole Map of the Hawaiian Islands, U.S.A. Being a descriptive portrayal of the history, transportation, industries and geography of the Territory of Hawaii, U.S.A.
By: Hawaiian Pineapple Company
Date: 1937 (dated) San Francisco
Original Size: 36 x 17 inches (91.5 x 43.2 cm)
This is a marvelous reproduction of the bright and colorful 1937 map of Hawaii drawn by Parker Edwards and issued by the Dole Pineapple Company. Edwards' map is one of the most iconic pictorial maps of Hawaii from its territorial period, prior to statehood, when attempts were being made to disseminate information regarding the archipelago's natural wonders and to draw tourists. 
All eight primary islands are featured in the map which includes numerous vignettes highlighting Hawaii's flora and fauna, history, transportation networks, and curiosities. The upper border is formed by images of indigenous flora and the lower by a series of images depicting Hawaii's reef fauna. Images of indigenous flora form the upper border. The lower border is formed by a similar series of images highlighting Hawaii's reef fauna. 
 Inventory #81014
Contact Us
Use the form below to ask questions about our fine print reproductions, give special requests, help us source the right map for you, customize your order, or sell us original maps you own to our sister company, New World Cartographic.
All you have to do is message or call us at (312) 496 - 3622.