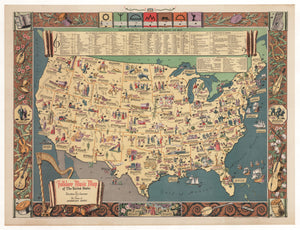 Folklore Music Map of the United States
By: Dorothea Dix Lawrence
Date: 1946 (Published) New York
Original Size: 23 x 30 inches (58.5 cm x 76 cm)
This is a fine print reproduction of a fascinating, colorful map of the United States depicting American folk music and the influences which shaped it in each area of the country. Various regional songs are depicted pictorially with the title of the song, a line of musical notes, and a corresponding whimsical vignette illustrating the song.
Across the top of the map is an inset with the words "Explanation to Illustrations and Music on Map". Below it are short descriptions or simply names of various nationalities whose influence helped shaped folk music in different parts of the country. Along the northeastern seaboard are vignettes suggesting the influence of the first explorers, of British sailors, of the Pilgrims, and a ballroom scene suggesting Continental European influence in the colonies. Farther south are depicted African Americans engaged in various industries, farming enterprises and indigenous peoples in their brightly-colored costumes. Farther inland and toward the west coast vignettes are effectively used to convey the sense of time and place for different sorts of music.
The border contains lovely illustrations of musical instruments of sundry origins, from ancient to modern. Some of the songs depicted include Bayou ballads, Creole folk songs, early California music, songs of the open range, Louisiana folk music, folk hymns, African American spirituals, and songs for children. Seven Zuni Indian symbols and colors representing the notes of the musical scale also appear in the upper border.
Dorothea Dix Lawrence was a successful opera singer in the 1930s and 1940s, and then became a leading champion and scholar of American folk music.  In 1945, she produced the "Folklore Music Map of the United States," which was widely distributed in American schools. She later published her songs in the book Folklore Songs of the United States. 
Inventory #10937
Contact Us
Use the form below to ask questions about our fine print reproductions, give special requests, help us source the right map for you, customize your order, or sell us original maps you own to our sister company, New World Cartographic.
All you have to do is message or call us at (312) 496 - 3622.