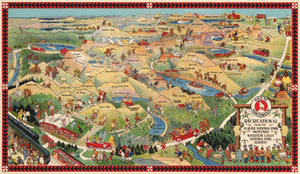 Recreational Map of Glacier National Park Montana Waterton Lakes National Park Alberta
By: Joe Scheuerle
Date of Original: 1925 (Published) St. Paul, MN
Original Size: 18 x 31.5 inches (46 x 80 cm)
This is a fine print reproduction of a lively, colorful map that was produced to promote tourism to Glacier National Park, Montana via the Great Northern Railway, which ran from St. Paul, Minnesota to Seattle, Washington with the obvious stop at the park in between. The railway was established in 1889 by James Hill and it ultimately helped promote legislation that established Glacier National Park in 1910. 
This pictorial map, humorous in nature offers a wide array of illustrative content to absorb while providing a bird's eye view of the park and beyond. A variety of recreational activities are represented throughout the map, while indigenous animals a people are portrayed in a delightful, carefree fashion. In several instances, Grizzly Bears can be found enjoying the park as humans would by observing monuments, going for hikes, and running along trails, and drinking alcohol. Native Americans are depicted with a sense of joy over the arrival of tourists to the park. Once scene even shows a Native American working as a caddy for golfers, while another elderly native holds a backstop for a group of men enjoying the bowling green.
Mountains are identified throughout the map as are principal lakes, and the various lodging options available to vacationers. One geographic point of interest worth noting is Triple Divide Mountain, which depicts a Bear atop a sign, pouring three bottles of liquor simultaneously that will ultimately reach the Arctic, Pacific, and Atlantic Oceans. 
Inventory #11458
Contact Us
Use the form below to ask questions about our fine print reproductions, give special requests, help us source the right map for you, customize your order, or sell us original maps you own to our sister company, New World Cartographic.
All you have to do is message or call us at (312) 496 - 3622.