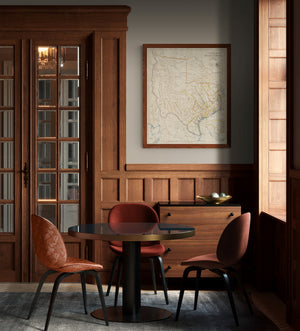 Iconic Map of Texas as a Republic or Independent Country
By: John Arrowsmith
Date: 1841 (published) London
Original Size: 24.5 x 20.5 inches (62 x 52 cm)
A fine print reproduction of a landmark map of Texas as a Republic in its largest form. The map was originally published by the esteemed English Geographer, John Arrowsmith in his famous London Atlas.
The latest geographic information for the map was sourced from four years of study by the General Land Office of Texas. The map included directional breaks in the upper reaches of river systems, complete with descriptive remarks such as "Good Prairie," "Rich Land Well Timbered," and "Valuable Game." It locates numerous Native American tribes of which the Comanche and two variant Apache tribes occupied the Big Bend region of Southwest Texas. 
At the time of the maps printing in 1841, Texas had just achieved its independence from Mexico and was its own republic. This new Republic was much large than present day Texas, extending as far west to include Santa Fe and well north into the Colorado Rockies. At the bottom of the map are two insets, one of which centers on Galveston Bay, complete with depth sounding and shallow bank locations. 
This map of Texas is widely regarded among the antiquarian map collecting community as the holy grail of Texas maps. Originals have sold for over $70,000 as the pride of Texans is strong, especially with regard to the decade spent as their own country. We are proud to be able to offer this fine print reproduction of such an iconic map. 
Inventory #81033
Contact Us
Use the form below to ask questions about our fine print reproductions, give special requests, help us source the right map for you, customize your order, or sell us original maps you own to our sister company, New World Cartographic.
All you have to do is message or call us at (312) 496 - 3622.