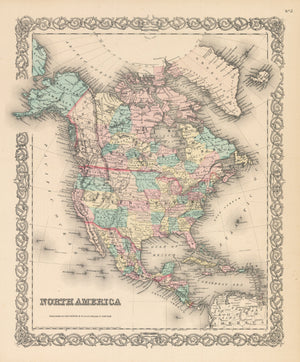 By: Joseph H. Colton
Date of Original: 1856 (published) New York 
Original Size: 16 x 13 inches (40.5 x 33 cm)
This is a fine print reproduction of a map of North America by Joseph H. Colton, published out of New York in 1856 when the United States was in its pre-civil war era of westward expansion driven by the idea of Manifest Destiny.
The map shows the geo-political makeup of the North American continent during the mid-19th century. The western United States is comprised of several large territories that were still largely unsettled by Anglo-European Americans. Some of the largest territories include New Mexico, Nebraska, Kanzas, Utah, and Oregon. Curiously, the locations of Native American tribes are entirely omitted from this map, as are railroads in the east. These omission are likely due to the size constraint of the single page used for this map.
The northern portion of the map shows Alaska as Russian Possessions and a rather obvious Northwest Passage which was fair easier to navigate in this map than in real life as the labyrinth of arctic sea ice was ever changing. 
Inventory #NA100 
Contact Us
Use the form below to ask questions about our fine print reproductions, give special requests, help us source the right map for you, customize your order, or sell us original maps you own to our sister company, New World Cartographic.
All you have to do is message or call us at (312) 496 - 3622.