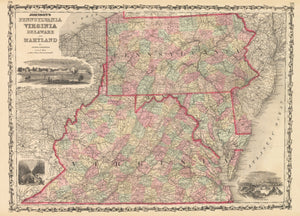 By: Johnson and Browning

Date of Original: 1861 (published) New York

Original Size: 18 x 25 inches (45.75 x 63.5 cm)

This is a fine print reproduction of a map of Pennsylvania Virginia Delaware and Maryland published by Johnson and Browning out of New York in 1861. The map is color coded by county with townships also identified and shows railroads, wagon roads, rivers, canals, mountains, ports, large towns, and villages of the mid-19th century. The map is embellished with lovely vignettes of the University of Virginia, the Dismal Swamp Canal, and the City of Baltimore. The time of printing is worth noting as the American Civil War has just officially begun and many bloody battles would be fought in the region.
Inventory #NA117

Contact Us
Use the form below to ask questions about our fine print reproductions, give special requests, help us source the right map for you, customize your order, or sell us original maps you own to our sister company, New World Cartographic.
All you have to do is message or call us at (312) 496 - 3622.