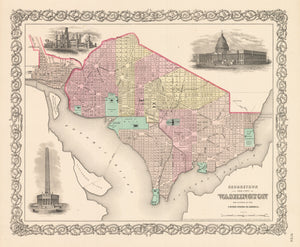 By: Joseph H. Colton

Date of Original: 1856 (published) New York

Original Size: 14 x 17 inches (35.5 x 43.2 cm)

This is a fine print reproduction of a map of Georgetown and Washington D.C., published by Joseph H. Colton out of New York in 1856. The map is color coded by ward and shows the street layout with street names, the Potomac River, canals, public squares, government grounds and buildings including the Mall, Presidential House, U.S. Capitol building, penitentiary, U.S. Naval Yard, and Marine Hospital to name a few.
Three vignettes offer views of the Capitol Building, Smithsonian Institute, and the Washington Monument, which was built 8 years prior to the printing of this map. The year this map was published, Democrat James Buchanan was elected the 15th president over Republican nominee John C. Frémont, and the former President Millard Fillmore.

Inventory #NA122

Contact Us
Use the form below to ask questions about our fine print reproductions, give special requests, help us source the right map for you, customize your order, or sell us original maps you own to our sister company, New World Cartographic.
All you have to do is message or call us at (312) 496 - 3622.