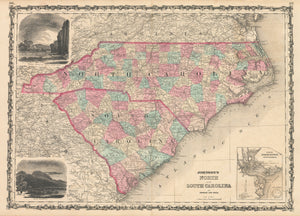 By: Johnson and Ward

Date of Original: 1862 (published) New York

Original Size: 14 x 17 inches (35.5 x 43.2 cm)

This is a fine print reproduction of a map of Maine published by Johnson and Ward out of New York in 1862. The map is color coded by county and shows railroads, wagon roads, rivers, canals, ports, large towns, and villages of the mid-19th century. The map includes two vignettes of Chimney Rocks and French Broad River and of Table Mountain.

The timing of the publication of this map is noteworthy as the United States had just entered the American Civil War with both North and South Carolina having seceded from the Union just two years prior. Therefor, this is a map of North and South Carolina as Confederate States. An inset map in the lower right shows Charleston, its harbor and vicinity with a layout of Fort Sumter. The "shot hear around the world," was fired upon Fort Sumter on April 12, 1861, which is nearly universally regarded as the start of the American Civil War.
Inventory #NA124

Contact Us
Use the form below to ask questions about our fine print reproductions, give special requests, help us source the right map for you, customize your order, or sell us original maps you own to our sister company, New World Cartographic.
All you have to do is message or call us at (312) 496 - 3622.