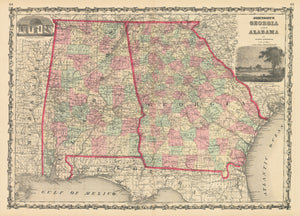 By: Johnson and Browning

Date of Original: 1861 (published) New York

Original Size: 18 x 24 inches (35.5 x 43.2 cm)

This is a fine print reproduction of a map of Georgia and Alabama published by Johnson and Browning out of New York in 1861. The map is color coded by county and shows railroads, wagon roads, rivers, canals, ports, large towns, and villages of the mid-19th century. On either side of the map are vignettes of a rice mill on the Savannah River and the Tuscaloosa Observatory. 

The timing of the publication of this map is noteworthy as Georgia and Alabama had seceded from the United States and are therefor Confederate States. A large number of battles would be fought during the Civil War within these states, most of them occurring between the years 1862 and 1864.
Condition: This map is in A condition with bold original color on fine paper with ample margins on all sides. Some light paper toning is apparent along the edge of the paper. A small centerfold separation exists at bottom center

Inventory #NA127

Contact Us
Use the form below to ask questions about our fine print reproductions, give special requests, help us source the right map for you, customize your order, or sell us original maps you own to our sister company, New World Cartographic.
All you have to do is message or call us at (312) 496 - 3622.