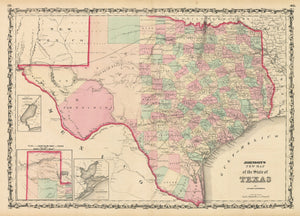 By: Johnson and Browning

Date of Original: 1861 (published) New York

Original Size: 17 x 24 inches (43.2 x 61 cm)

This is a fine print reproduction of a map of Lone Star State of Texas, published by Johnson and Browning out of New York in 1861. The map is color coded by county and shows railroads, wagon roads, the U.S. Mail Route, rivers, ports, large towns, and villages of the mid-19th century. Much of the western portion of the state is divided into large counties that had yet to be properly surveyed. The job of a land surveyor on the frontier was one of most dangerous jobs in the world as the horse-tribes of the plains recognized land surveyors as a precursor to new white settlers. 
The timing of the publication of this map is noteworthy as the American Civil War had just begun and many of the federal military support and Texas Rangers went east to fight. This left the state of Texas very ill-equipped from a personnel and weapons standpoint in their ongoing war over territory with the Apaches, Kiowas, and Comanches. In the years following, much of the most western settlements would be lost as the plains tribes fought the line of American progress back to the east. While the map only identifies these tribes within an inset map of the norther panhandle, there presence was very much real and in effect throughout much more of the state.
The map also includes an inset of Sabine Lake on the border of Texas and Louisiana and another inset map of Galveston Bay. At the time, Galveston was seen as a sight of great economic promise that could one day rival New York in terms of wealth and population. Other noteworthy towns depicted in the map include Houston, Austin City, Dallas, Fort Worth, Corpus Christi, and San Antonio. 

Inventory #NA136

Contact Us
Use the form below to ask questions about our fine print reproductions, give special requests, help us source the right map for you, customize your order, or sell us original maps you own to our sister company, New World Cartographic.
All you have to do is message or call us at (312) 496 - 3622.