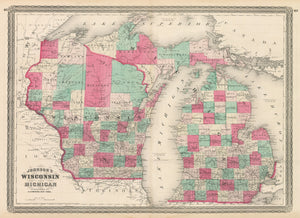 By: Johnson and Ward

Date of Original: 1861 (published) New York

Original Size: 17.5 x 24 inches (44.5 x 61 cm)

This is a fine print reproduction of a map of Wisconsin and Michigan, published by Johnson out of New York in 1866. The map is color coded by county and shows railroads, wagon roads, rivers, canals, ports, large towns, and villages of the mid-19th century. Important towns that can be found within the map include Detroit, Lansing, Saginaw, Grand Rapids, Kalamazoo, Milwaukee, Green Bay, Madison, Wausau, and LaCrosse to name a few. 
At the time of publication, much of the population was confined to the lower half of each state and this is quite obvious when looking at the maps. Counties in the northern portions are either very large and/or without any towns or settlements. Though much of the Native American population had since been relocated to reservations in present-day Oklahoma, notations of an Indian Reserve in Michigan's Upper Peninsula, and in northern Wisconsin, one can find the Chippewa Reserve and an unnamed "Indian Village" in the underdeveloped counties. 

Inventory #NA142

Contact Us
Use the form below to ask questions about our fine print reproductions, give special requests, help us source the right map for you, customize your order, or sell us original maps you own to our sister company, New World Cartographic.
All you have to do is message or call us at (312) 496 - 3622.