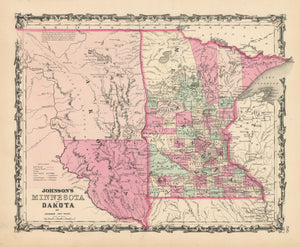 By: Johnson and Ward

Date of Original: 1861 (published) New York

Original Size: 12.5 x 15.5 inches (31.75 x 39.5 cm)

This is a fine print reproduction of a map of Minnesota and Dakota published by Johnson and Ward out of New York in 1862. The map is color coded by county and shows surveyed lands, lakes, rivers, railroads (both completed and proposed), towns, military forts, trading posts, Native American lands, and several notes of the geography of the region. 
In this map, Dakota has not yet been divided into North and South Dakota, and much of the land is noted as being part of Yankton Country, which refers to one of the northern plains Sioux tribe. At the top of Dakota is a notation that reads as follows...
"The vast region of prairies from the Red River of the North and the Mini Walcan L. (Devil's Lake) to about the Great Bend of the Missouri R. is the Great Hunting and Fighting Ground of Kdakotah, Odjibwe, Assinibouin, Asikara, Minitarree, and other Nations."   
This map is no doubt a great piece of history for anyone with ties to Minnesota, the Dakotas, and/or Native American history, specifically the tribes of the northern plains.
Inventory #NA145

Contact Us
Use the form below to ask questions about our fine print reproductions, give special requests, help us source the right map for you, customize your order, or sell us original maps you own to our sister company, New World Cartographic.
All you have to do is message or call us at (312) 496 - 3622.