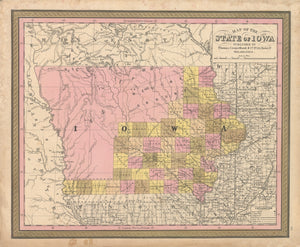 By: Thomas Cowperthwait & Co.
Date of Original: 1850 (published) Philadelphia
Original Size: 13 x 16 inches (33 x 40.5 cm)
This is a fine print reproduction of Iowa, published by Thomas Cowperthwait and Co. out of Philadelphia in 1850 just under four years after Iowa was officially admitted into the Union. The map is color coded by county with towns, rivers, lakes, wagon roads, canals and railroads noted throughout.
Much of the northwestern portion of the state remain unsurveyed or divided into counties as this part of the country was still heavily occupied by Native Americans. A large swath of land is labeled "neutral ground," in which the Sauk and Fox tribes on one side and the Dakotas on the other were allowed to fish and hunt within the area unmolested by whites. Eventually this land was ceded to the Winnebagos after they were removed from their land in what is now Wisconsin and Minnesota. On this map, the land to the west of Iowa is still part of a large "Indian Territory" that would shrink considerably in the coming years.  
Inventory #NA146
Contact Us
Use the form below to ask questions about our fine print reproductions, give special requests, help us source the right map for you, customize your order, or sell us original maps you own to our sister company, New World Cartographic.
All you have to do is message or call us at (312) 496 - 3622.