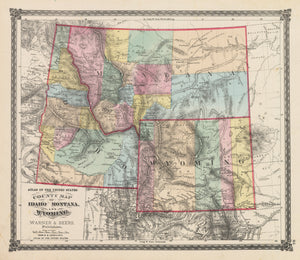 By: Warner & Beers
Date of Original: 1875 (Published) Chicago
Original Size: 14.25 x 16.5 inches (36 cm x 42 cm)
This is a fine print reproduction of Montana, Idaho, and Wyoming by Warner & Beers, published out of Chicago in 1875.
The map is color coded by county and includes a wealth of interesting historical content and cartographic detail. Much of this region had previously been part of a variety of territories including the Nebraska, Dakota, and Idaho territory. In this map it is show in its present-day configuration, but still with many large counties that will one day be divided up and reconfigured.
Interesting cartographic notes include the locations of several Native American tribes including the Crow, Snake, New Perce, and the hunting ground of the Black Feet and Assiniboins. The Central Pacific Railroad, which is part of the greater Union Pacific can be found running east - west from Dakota, through southern Wyoming, into Utah where the golden spike was hammered in Ogden, Utah. Other historical landmarks include Fremont's Pass, Lewis and Clarke's Pass, the gold mining town of Virginia City, a number of frontier military forts and outposts, and Yellowstone National Park, which was established just three years prior to the publication of this map. 
Inventory #NA150
Contact Us
Use the form below to ask questions about our fine print reproductions, give special requests, help us source the right map for you, customize your order, or sell us original maps you own to our sister company, New World Cartographic.
All you have to do is message or call us at (312) 496 - 3622.