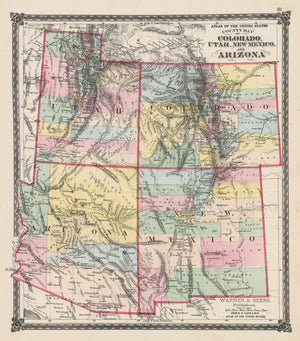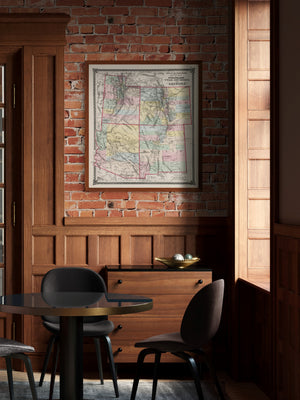 By: Warner & Beers
Date of Original: 1875 (Published) Chicago
Original Size: 16.5 x 14.5 inches (42 x 37 cm)
This is a fine print reproduction of the four-corners states, Colorado, Utah, New Mexico, and Arizona by Warner & Beers, published out of Chicago in 1875.
The map is color coded by county and includes a wealth of interesting historical content and cartographic detail. Much of this region had previously been part of a variety of larger territories such a New Mexico and Utah, Over the years these territories shifted and changed until they became what is known today and displayed in this map from 1875. Many of the counties shown in this map will be further divided and rearranged in years to come.
Interesting cartographic notes include the locations of several Native American tribes including the Navajo, Pueblo, Apaches, Mojaves, Tontos, and Capote to name a few. Completed railroads in Colorado extend into proposed railroads that would one day run through New Mexico and Arizona. Other historical landmarks include several military forts and outposts, silver and copper mines, the site of the Massacra of Captain Gunnison, and the updated delineation of the Colorado River through the Grand Canyon from the Powell expedition of 1869.
Inventory #NA158
Contact Us
Use the form below to ask questions about our fine print reproductions, give special requests, help us source the right map for you, customize your order, or sell us original maps you own to our sister company, New World Cartographic.
All you have to do is message or call us at (312) 496 - 3622.