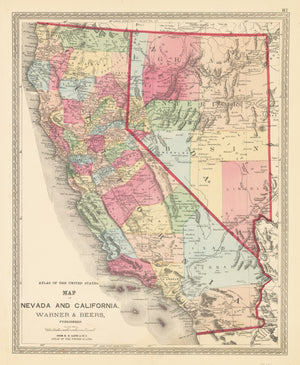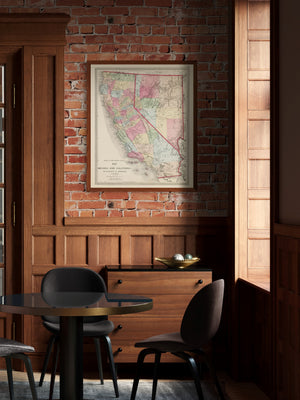 By: Warner & Beers
Date of Original: 1872 (Published) Chicago
Original Size: 17 x 13.5 inches (43 x 34.25 cm)
This is a fine print reproduction of California and Nevada by Warner & Beers, published out of Chicago in 1875.
The map is color coded by county and includes a wealth of interesting historical content and cartographic detail. Much of this region had previously been part of a variety of larger territories such Upper California, New Mexico, and Utah. Over the years these territories shifted and changed until they became what is known today and displayed in this map from 1875. Many of the counties shown in this map will be further divided and rearranged in years to come.
In this map, Nevada is referred to as "Great Interior Basin," which was first documented by John C. Fremont during his expeditions with Christopher "Kit" Carson in the 1840s. Additionally, much of  Nevada is shown to be home of the "Root Diggers or Paiutes," which refers to three non-contiguous Native American tribes of the Great Basin. Living in such a hostile environment, earlier maps and historical accounts take pity on these tribes and see them as 'more savage' than many of the other tribes encountered by whites.
A number of completed railroads in northern and central California connecting to several proposed railroads in Southern California. A wagon route from "Los Angelos to Salt Lake," is also delineated in the lower portion of the map. Other historical landmarks include military forts and a wide range of mining towns that are much less significant today.
Inventory #NA160-3
Contact Us
Use the form below to ask questions about our fine print reproductions, give special requests, help us source the right map for you, customize your order, or sell us original maps you own to our sister company, New World Cartographic.
All you have to do is message or call us at (312) 496 - 3622.