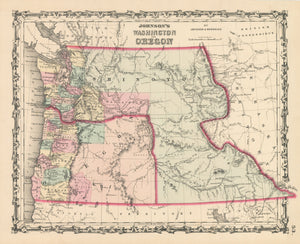 By: Johnson & Browning
Date of Original: 1861 (published) New York
Original Size: 12.5 x 16 inches (32 x 40.5cm)
This is an Giclée Map Print Reproduction of Washington and Oregon, published in 1862 by Johnson & Browning out of New York. The map is color coded by county, many of which had not yet been surveyed and includes cartographic information on towns, rivers, lakes, mountains, ports, and military forts. The map shows Washington so large that it encompasses present day Idaho and western Montana. 
The map provides great historic content with regards to the Native American tribes that once thrived within the region. Some of the tribes that can be can be found within the map include, the Shoshone, Klamath, Panacks, and the Nez Perce that played a vital role in the success of the Lewis and Clark expedition over fifty years prior to the publication of this map.
Inventory #NA161
Contact Us
Use the form below to ask questions about our fine print reproductions, give special requests, help us source the right map for you, customize your order, or sell us original maps you own to our sister company, New World Cartographic.
All you have to do is message or call us at (312) 496 - 3622.