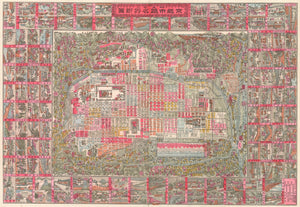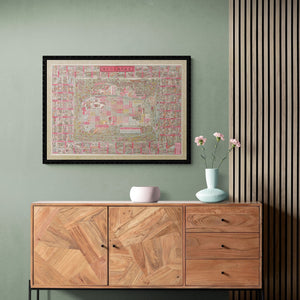 Map Maker: Cho'oka Kenzou Printed by: Fufetsu Shozaemon
Date of Original: February 1, 1890
Original Size: 20 x 29 inches (51 x 73.5 cm)
A fine print reproduction of an impressive late 19th-century map of Kyoto, Japan made with the city's long history and recent past both in mind. Designed for the 'walking tourist,' the map specifically lists famous places and other buildings of interest, such as textile mills and silk factories. The map is oriented to the East with North to the left.
At the beginning of the Meiji Era the Emperor left his seat in Kyoto and moved to Tokyo which is why the castles and detached palaces are now all have "former" in front of them. This map, printed Meiji 23 (1890) shows the "former Imperial Palace." at the center. Kyoto moved ahead into the new era building brick buildings like Doshisha while also maintaining its rich heritage of shrine and temples as well as building new temples to honor its past.
Districts appear in big bordered red boxes, the smaller yellow boxes are for '"machi," which can be thought of as sub-districts within districts. At table located just below central Kyoto lists bottom lists the "distance of sights from the Sanjo Bridge," which is located above central Kyoto spanning the Kamogawa River. To the north (left) just before the river splits, one can find the Girl's School, Medical School, a spinning factory, silk factory, and a little more to the east, Yoshida Shrine. These sights and many more are depicted in within the border of over 100 images of various sights found throughout the city. 
Inventory # 11707
Contact Us
Use the form below to ask questions about our fine print reproductions, give special requests, help us source the right map for you, customize your order, or sell us original maps you own to our sister company, New World Cartographic.
All you have to do is message or call us at (312) 496 - 3622.