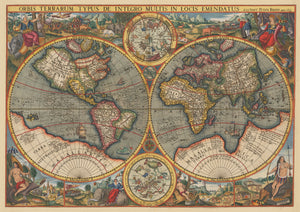 Orbis Terrarum Typus De Integro Multis In Locis Emendatus auctore Petro Kaerio anno 1607
By: Petro Kaerio
Date: 1604
Original size: 16 x 22.5 inches (40.6 cm x 57.15 cm) 
This is a spectacular reproduction of the extremely rare 1604  Petrus Kaerius double hemisphere World map. It is based on a map by Plancius of 1594, which was the first printed map to incorporate decorative allegorical figures as embellishments in spaces surrounding the hemispheres.The elaborate borders were inspired by drawings in the works of cartographer Theodore de Bry, published a few years earlier, and established a pattern of cartographical decoration that lasted over a century.
The map has great significance geographically, especially in its depiction of the Arctic and the Far East, and was an important influence in the ongoing search for a North-West Passage. Barents (for whom the Sea is named) had been persuaded by Plancius himself to make three voyages in search of it, and this map was used as cartographic encouragement. This beautiful reproduction will provide endless opportunities for exploring what was known of the world in the early seventeenth century. 
Inventory #81000
Contact Us
Use the form below to ask questions about our fine print reproductions, give special requests, help us source the right map for you, customize your order, or sell us original maps you own to our sister company, New World Cartographic.
All you have to do is message or call us at (312) 496 - 3622.