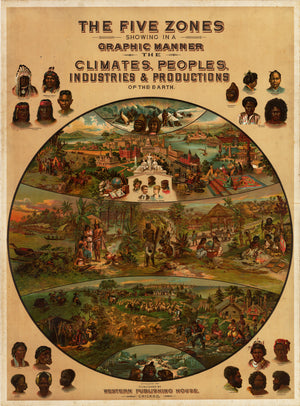 By: Levi Walter Yaggy
Date: 1887 (Published) Chicago

Original Size: 44 x 32.5 inches (111.8 cm x 82.6 cm)

This is a fine print reproduction of a spectacular pictorial chromolithograph poster that features a schematic map of the earth's five 'zones', with each zone bearing illustrations reflecting its characteristic climate, population, and economic activities. Yaggy's enthusiasm for bringing education to all and sundry is obvious in all his works, and this particular work, taken from his teaching atlas, summarizes several strands of thought. The division of the world into five broad climatic zones ranging from frigid to temperate to torrid had first been done in ancient Greece and Yaggy employed the idea in his ambitious atlas.

The Arctic Zone features Eskimos, polar bears, reindeer, and igloos.

The North Temperate Zone names contains what were at that time the rapidly industrializing nations, North America, plus a vignette in tribute to American indigenous peoples, and China and Japan.

The Torrid Zone contains New Guinea, Brazil, Africa, the East Indian Islands and Australia and is peopled by indigenous peoples only, along with the housing and undertakings which occupy their lives.

The South Temperate Zone names South America, Australia and New Zealand. Here we see agriculture as practiced in Europe and the US, gold mining, vaqueros on the pampas and indigenous peoples with fancifully carved wooden trim adorning their homes. In the background is a vignette of a European-style city.

In the North Temperate Zone, the map is illustrated with easily recognizable iconic architectural edifices from magnificent palaces in China and Japan to Hagia Sophia in Istanbul, the Kremlin in Moscow, the White House in the USA. Also pictured in this zone is a group of marble statues under which is the heading 'Caucasian', and beneath the heading are featured five portraits labeled German, Spanish, Russian and United States.


Inventory #10939
Contact Us
Use the form below to ask questions about our fine print reproductions, give special requests, help us source the right map for you, customize your order, or sell us original maps you own to our sister company, New World Cartographic.
All you have to do is message or call us at (312) 496 - 3622.