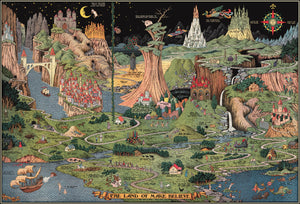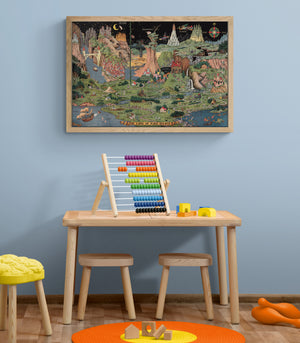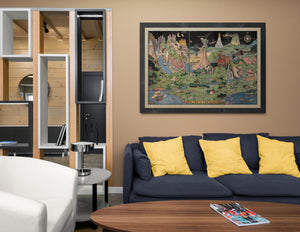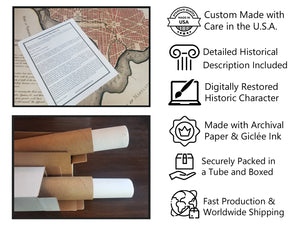 By: Jaro Hess
Date: 1930 (Published) Grand Rapids, Michigan
Original Size: 25 x 36 inches
This is a reproduction of a most imaginative and wonderful original map by Jaro Hess. His work depicts a marvelous wonderland including castles from every culture, and from his very own imagination. We see such familiar figures as the cow jumping over the moon, Jack climbing the Bean Stalk, the Emerald City of Oz, the house that belongs to Grandfather Know-All, Hansel and Gretel and the Gingerbread House, to name just a few of the well-known marvels of this wondrous poster. We also see figures such as mermaids, peculiar fishes and the mysterious island. This poster will brighten any room in which it is hung. 
Czech-born artist Jaro Hess' map has been stimulating the imagination of youngsters of all ages since its publication in 1930. Hess' painting, "Adventure in Storyland," which offered a dazzling Grand Unifying Theory of the world's fairy tales, was turned into a poster by The Child's Wonderland Company of Grand Rapids, Michigan. The poster provides not only a glimpse into the best-known fairy tales from different parts of the world, but also a glimpse into the inner world of Hess, who, due to the Great Depression, found it necessary to do whatever job came to hand, while at the same time indulging his passion for art.
Inventory #81004 
Contact Us
Use the form below to ask questions about our fine print reproductions, give special requests, help us source the right map for you, customize your order, or sell us original maps you own to our sister company, New World Cartographic.
All you have to do is message or call us at (312) 496 - 3622.