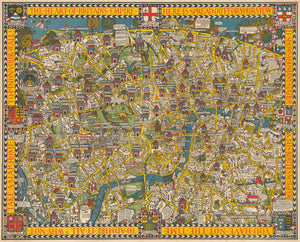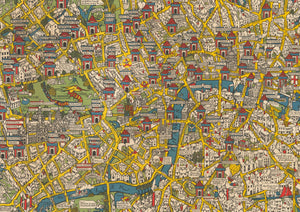 By: Leslie MacDonald Gill
Date: 1924 (Published) London, Westminster Press
Dimensions: 29 x 36.5 inches (73.7 x 92.7 cm)
This is a fine print reproduction of a rare second edition of the marvelous pictorial map of London by Leslie MacDonald Gill that features all the terminals for their world renown underground railway public transit system, the first of its kind. 
The border includes an invitation stated as follows: "The Heart of Britain's Empire Here is Spread Out for Your View. It Shows You Many Stations & Bus Routes Not A Few. You Have Not the Time to Admire it all? Why Not Take a Map Home to Pin on your Wall!" A caricature map of central London, this map was originally drawn as an advertising poster for London Electric Underground Railway Company in 1914. 
Drawing its inspiration from Lewis Carroll's 'Alice in Wonderland, the map covers north to Camden Town, south to Clapham, east to St Katherine's Dock and west to Hammersmith.  Such was its success that a commercial version was issued the following year, available to the general public.
This second edition features a lion near the arrow pointing toward Wembley, which was changed to a greyhound in subsequent editions. 
Inventory #11623
Contact Us
Use the form below to ask questions about our fine print reproductions, give special requests, help us source the right map for you, customize your order, or sell us original maps you own to our sister company, New World Cartographic.
All you have to do is message or call us at (312) 496 - 3622.