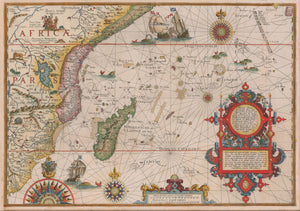 Delineatio Orarum Maritimarum, Terrae vulgo Indigetatae Terra do Natal, item Sofalae, Mozambicae, & Melindae
By: Jan Huygen Van Linschoten & Arnold Van Langren
Date: 1596 (published) Amsterdam
Original Size: 22 x 15 inches
This is a fine print reproduction of one of the most richly ornamented maps of Africa to come out of the 16th century. The map was originally engraved in the Flemish style by Arnold Florent van Langren and featured in Linschoten's Itinerario.
The map shows the eastern side of Africa with Madagascar and part of the Indian Ocean, extending as far east as present day India and Sri Lanka, which can be found in the top right corner. The source of the Nile river is shown as lake of Zaflan. Above this lake is a visual depiction of  Prester John in Ethiopia, a Christian King thought to rule a vast portion of the interior of the African continent. 
The cartouche on the right side contains the titles in Latin and in Dutch with a description of the territories which translates to English as follows: "Illustration of the coasts of the land called Terra do Natal, and likewise of all the coasts of Safala, Mozambique, Melinde, and the island of S. Lorenzo [Madagascar] ... likewise of the islands from Maldiva to the Island of Ceylon shown to the promontory of Cormorin, situated on the coast of India ... all very accurate, revised, and improved in accordance with the very best Indian maps." Decorative compass roses, sailing ships, some at battle, and sea monsters ornament the ocean within an elaborate web of rhumb lines.
Inventory #58424
Contact Us
Use the form below to ask questions about our fine print reproductions, give special requests, help us source the right map for you, customize your order, or sell us original maps you own to our sister company, New World Cartographic.
All you have to do is message or call us at (312) 496 - 3622.