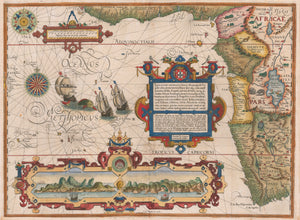 Typus orarum maritimarum Guineae, Manicongo & Angolae ultra Promentorium Bonae spei susq…
By: Jan Huygen Van Linschoten & Arnold Van Langren
Date: 1596 (published) Amsterdam
Original Size: 22 x 15 inches
This is a fine print reproduction of one of the most richly ornamented maps of Africa to come out of the 16th century. The map was originally engraved in the Flemish style by Arnold Florent van Langren and featured in Linschoten's Itinerario.
The map shows the coast of Africa from Guinea to South Africa. The coast is drawn in fine detail from the Gulf of Guinea to just beyond the Cape of Good Hope. In the interior, the fictitious cities of Vigiti Magna and Monomotapa are located and most place names and geographical features have Portuguese nomenclature. Animals and other creatures dot the interior. A lion stares intently, watching a pair of snakes to the northwest. An elephant and a rhino face off farther south. In Lake Zaire ( Zaire lacus), two mermaids play musical instruments.
In an elaborate scrollwork cartouche in the Atlantic are two beautiful, large inset profile views. On the left is Ascension, with its strange peaks. A ship is already at anchor with more on the horizon. Decorative compass roses, sailing ships, and a sea monster ornament the ocean within an elaborate web of rhumb lines.
Inventory #58423
Contact Us
Use the form below to ask questions about our fine print reproductions, give special requests, help us source the right map for you, customize your order, or sell us original maps you own to our sister company, New World Cartographic.
All you have to do is message or call us at (312) 496 - 3622.