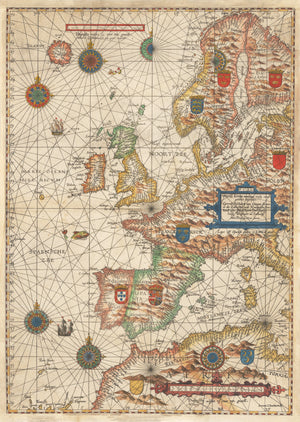 By: Lucas Janszoon Waghenaer
Date: 1583 (published) Antwerp
Original Size: 16.5 x 22 inches (42 x 56 cm)
This is a fine print reproduction of the earliest obtainable general sea chart of Europe. The map focuses on the British Isles, Iceland, and the western Mediterranean, including the mythical Island of Brazil. It is richly embellished with compass roses, sea monsters, sailing ships, coats of arms and rhumb lines throughout.
The island of Brazil, shown here typically as a circular island with a river bisecting it, is part of Irish folklore. It is said to appear from a constant shroud of mist for one day every seven years. However, as Barbara Freitag has shown, the island was only Gaelicized in the mid-nineteenth century. It was originally the product of late medieval and early modern Mediterranean mapping practices that named and located Brazil Island off the west coast of Ireland. It first appeared on portolan charts as early at 1325 and continued to wander the eastern Atlantic in charts by Ortelius and Mercator, among others.
The Waghenaer chart, is important as it was a practical sailing aid, yet it is also a chronicle of geographic illusion.
Inventory #51689
Contact Us
Use the form below to ask questions about our fine print reproductions, give special requests, help us source the right map for you, customize your order, or sell us original maps you own to our sister company, New World Cartographic.
All you have to do is message or call us at (312) 496 - 3622.