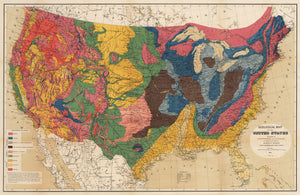 By: United States GPO
Date of Original: 1873 (Published) Washington
Original Size: 21.5 x 33.5 (54.4 cm x 85.1 cm)
This colorful fine print reproduction map of the United States was compiled by Professors C.H. Hitchcock and W.P. Blake. It is one of the most important early geological maps of the United States, one which would be copied by major commercial mapmakers for a number of years following its publication, making it what we refer to as a "landmark work."

In addition to depicting geological data, the map also includes state capitals, county towns, principal cities, military and wagon roads, arsenals and forts, creeks and rivers, and canals. Railway systems are clearly delineated. The geological data depicted by it is quite inclusive, covering the Cenozoic, Mesozoic, and Paleozoic periods. More specific geologic data is included in the legend, which is color-coded for ease of reading and interpreting the map.

Other traditional geographic features worth noting include the Dakota Territory and present day Oklahoma as Indian Territory filled with reservations of several tribes from both the Southeast, Midwest, the Great Plaines, and the southwest, including the Cherokee, Chocktaw, Creek, Comanchee, Kickapoo, Apache and Kiowa to name a few.

Inventory #10934
Contact Us
Use the form below to ask questions about our fine print reproductions, give special requests, help us source the right map for you, customize your order, or sell us original maps you own to our sister company, New World Cartographic.
All you have to do is message or call us at (312) 496 - 3622.