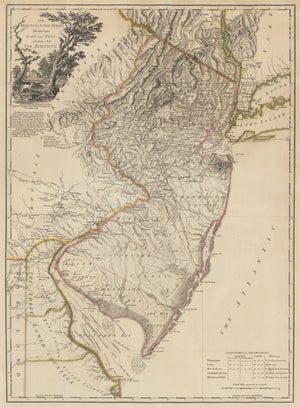 The Province of New Jersey Divided into East and West, commonly called the Jerseys 
By: William Faden
Date: 1778 (dated) New York 
Original Size: 23 x 32 inches (58 x 81 cm) 
This is a Vintage Map Shop reproduction of the first state of one of the finest and most celebrated maps of New Jersey of its day. Made during the Revolutionary War, the original of this map depicts New Jersey in finely engraved detail at a large scale of seven miles to the inch, and was the grandest representation of the state of its time. Faden took care to depict the entire breadth of New Jersey, the Hudson Valley, most of Long Island, eastern Pennsylvania and all of Delaware Bay. 
Faden was obviously influenced by the work of British military surveyor Bernard Ratzer, particularly his well-known map of New York City, drawn in 1766-67 and published in 1770. In addition to his renowned map of New York, Ratzer had helped to finally settle the border dispute undertaken by George III to determine the borders of New York and New Jersey. 
Just as Ratzer had so scrupulously detailed his map of New York City, so did Faden take pains to detail New Jersey's rich topography, including the Pine Highlands and Palisades in the north and the Pine Barrens and coastal marshes of the south. County divisions, major roads and towns are all carefully depicted, making it obvious that New Jersey was, by the standards of the time, heavily populated, having over 120,000 inhabitants. 
A fine cartouche formed by two trees surrounding a pastoral scene of country houses embellishes the map and in the lower left the map is adorned with a table of astrological observations.
Inventory #81016
Contact Us
Use the form below to ask questions about our fine print reproductions, give special requests, help us source the right map for you, customize your order, or sell us original maps you own to our sister company, New World Cartographic.
All you have to do is message or call us at (312) 496 - 3622.