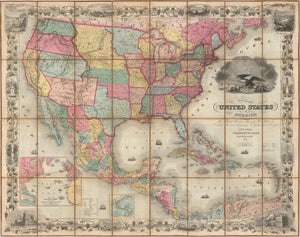 Colton's Map of the United States of America, The British Provinces, Mexico, The West Indies and Central America
By: Joseph Hutchins Colton 
Date: 1855 (dated) New York
Original Size: 40 x 33 inches (101.5 x 84 inches)
This is a marvelous colorful reproduction of a magnificent example of the rare 1855 edition of Colton's map of the United States. In the 1850's Colton published a number of separately issued maps of the United States. These maps offered some of the most up to date and comprehensive views of the country, and were revised annually as information flowed in from early surveys sponsored by the government as new territories were created and opened to settlement. While the early editions of the map appear on the market periodically, this mid-1850s example is very rare.
This map shows the region west of the Mississippi River immediately following the Gadsden Purchase including the territories of Washington, Kansas, Minnesota, Nebraska and Oregon. The map is richly updated with the most reliable information obtainable at the time.  Its elaborate grapevine borders include twelve vignettes of various places of interest, including Willamette Falls in Oregon, the Capitol Building, an incomplete Washington Monument, Astoria Oregon, Mexicans catching cattle, and the Valley of Connecticut from Roanoake.  
Inventory #81016
Contact Us
Use the form below to ask questions about our fine print reproductions, give special requests, help us source the right map for you, customize your order, or sell us original maps you own to our sister company, New World Cartographic.
All you have to do is message or call us at (312) 496 - 3622.