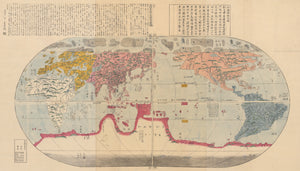 By: Matteo Ricci / Sekisui Nagakubo
Date of Original: Edo / 1785 (1834) 
Osaka
Original Size: 36 x 63 inches (91.5 x 167.5)
Fine print reproduction of the 1834 printing of Sekisui Nagakubo's landmark map of the World, based upon Matteo Ricci's map of the World, published in China. Sekisui Nagakubo's world map is one of the earliest world maps published in Japan. First issued circa 1785, it is the work of one of Japan's most important mapmakers.

Sekisui adapted Ricci's Chinese world map to publish this marvelous world wall-map. The texts on the upper margin include a discussion of the contribution of the Dutch to world mapping. The map generally keeps the Chinese characters used by Ricci, but sometimes they are transformed into Japanese characters. The texts around the map include some interesting description of Brazil. It notes, "The inhabitants of this country do not build houses. They dig the earth and live in caverns. They like to eat human flesh, however they only eat men and not women. Their clothes are made from birds feathers."

Ricci, in turn, based this map upon Ortelius's world map. Ricci reorients the map to place Asia at the center of the World (Ortelius placed Europe at the center). The Pacific and the Atlantic Oceans traded places and China became the commanding landmass.

The geography on Nagakubo's map provides a superb example of Japan's view of the world during its long period of isolation. No Great Lakes are delineated in America, and California, which had been depicted as an island on many European maps of the 17th and 18th centuries, is a peninsula on his map. That is not because the mapmaker had access to the latest geographical information but because his model predated the island theory. The North Pole is made up of an unfamiliar group of islands while the South Pole is the fictional, unexplored continent of Magellanica.
Inventory #81022
Contact Us
Use the form below to ask questions about our fine print reproductions, give special requests, help us source the right map for you, customize your order, or sell us original maps you own to our sister company, New World Cartographic.
All you have to do is message or call us at (312) 496 - 3622.