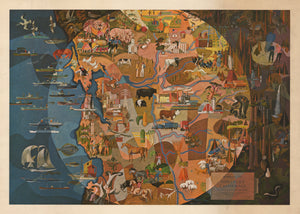 By: Millard Sheets
Date of Original: 1950 (circa) San Francisco
Original Size: 14.75 x 21.5 inches (37.5 cm x 54.6 cm)
At the time Millard Sheets was commissioned to do this poster he was known as one of America's most versatile and distinguished painters. Although Sheets was best known for his water colors, he was talented in myriad techniques and approaches, from major mural commissions, to illustrations for magazines. He worked as a technical advisor on motion pictures, and taught and lectured at colleges and universities.
This is the second poster in a pair which was commissioned by the American Trust Company San Francisco. The first depicted the historical events which shaped the state's destiny, while this one depicts the state as it was in the mid-twentieth century. The Panorama of Today pictures the infinite variety of resources, activities and opportunities that have materialized, 'surpassing the boldest dreams of a century ago in this land that grew from gold'. The state's fertility starts high in its mountain ranges with the water provided by heavy snowfall each year. This water is used in myriad ways; for agriculture, transportation, electric power, and for sports and recreation.
The importance of Northern California's abundance of resources can't be overstated, and this pictorial map attempts to do it justice with its colorful and lively representations of the many varieties of wealth which are to be found in this area of the state. 
Inventory #10956
Contact Us
Use the form below to ask questions about our fine print reproductions, give special requests, help us source the right map for you, customize your order, or sell us original maps you own to our sister company, New World Cartographic.
All you have to do is message or call us at (312) 496 - 3622.